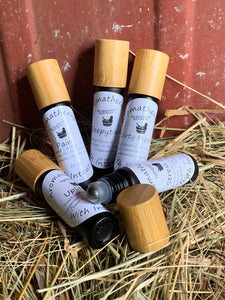 We all need a little something to help us thru the day. Why not turn to essential oils? These carefully chosen oils all have a purpose and intention to offer. Choose from one of the following:
Dirty Hippie: a fun blend of patchouli, lavender, orange and cedarwood
Pain: all the pain oils in one bottle. A blend of copaiba, Siberian fir, wintergreen and frankincense 
Sleepytime: who doesn't need help falling asleep? This blend includes: lavender, Vetiver, bergamot, ylang ylang & frankincense 
Stress Less:  this one is used daily! A soft blend of lavender, clary sage, ylang ylang and marjoram 
Uplifting:  weather have you down? How about traffic getting to you? This citrusy blend is sure to lift your mood! Made with cheer, peppermint, lemon and tangerine.
I am not a doctor. These are not intended to cure anything. Essential oils should be used wisely. We recommend you do your own research on each oil. Citrus oils are photosensitive and should not be used in direct sunlight. If sensitivity occurs, discontinue use.